Lake Forest Corporate Education Faculty Profile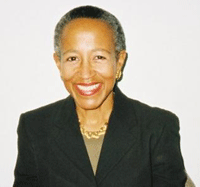 Patricia Moten Marshall
Experienced Executive Embraces Change, Leads Others to Highest Potential
By Barbara Wang
LFCE faculty member Patricia Moten Marshall has a passion for challenge, change, and contribution. Throughout her career, she's applied her business expertise and creativity to achieve success both as a leader within the organizations she's served and as a teacher helping others envision and realize their own potential.
As an executive, Marshall steadily delivered impressive business results and rose to numerous key operations positions, including VP, Health Care Services and Hospital Director for Loyola University Medical Center; Executive VP and COO, St. Joseph Hospital and Health Care Center (Resurrection Health Care); and VP/Internal Consultant, Lutheran General Health Care System (Advocate Health Care). Yet, in 1996, Marshall set out to make new contributions to the business world and founded change leadership consulting firm, SynerChange Chicago, where she currently serves as President.
What would lead a successful executive poised to reach the top management ranks to embrace consulting and teaching? "While at Lutheran General, I had the opportunity to serve as an internal consultant working to prepare the organization to manage change," Marshall reflects. "I soon discovered helping organizations meet mission critical goals while guiding individuals to grow and enrich their careers was both valued in the marketplace and personally rewarding."
With her experience leading others in the complex and competitive healthcare industry and keen eye for identifying and enhancing the drivers of organizational change, Marshall is well equipped for success as an LFCE faculty member. "My teaching approach matches LFCE's philosophy," Pat explains. "I can honestly tell students, 'I've been there, this is how I developed solutions, and this is what worked.'"
One of the best ways to manage organizational change is effective performance management. As an LFCE faculty member, Marshall offers students in-depth know-how and practical skill-building and talent development techniques. Below, she outlines several observations on performance management trends attracting interest among today's forward-looking business leaders.
Embrace performance management as a key driver of results. At last, companies are taking a broader view of performance management. Good managers have come to understand a simple fact: If you're in a management role, everything you do is performance management. Don't limit your view of "performance management" to annual reviews or disciplinary action. Performance management is a much broader undertaking - it's the continual aligning of individual performance with the specific goals the business seeks to realize.
Key to success is continual alignment of business goals and talent. To achieve the greatest impact, performance management must be undertaken as an ongoing cycle of matching organizational goals, mission, and vision to jobs designed to carry out specific objectives. At this point, managers must act proactively to "select for talent" - identifying the right people for the right job. Thereafter, each individual is developed to be the best he or she can be using coaching and training, formal appraisals and feedback.
What are your talents? The concept of "selecting for talent" in particular is an aspect of performance managment that's taking hold. Most of us tend to focus on resumes, evaluating credentials, past positions, and achievements. Less emphasis has been placed on identifying one's core talents. These are not the education and work experience credientials typical of formal resumes, but natural talents and attributes developed very early in life.
There are plenty of jobs that are a fit for various talent sets. The key to success for both the organization and the individual is to match the "right" individual with the "right" job. Properly executed, this approach is having a positive impact on people's lives and experiences overall, as well as improving company performance when talents and goals are matched and managed.
"When people reach the position where they can feel good about their contributions - where their talents are aligned with a larger goal," Marshall declares, "then they can truly begin to excel to their highest potential." When a student reaches this point, this is where is all comes together for Marshall - the point where her hard-earned experience as an operations executive intersects with her drive to help individuals maximize their contributions and talents. This is where Marshall herself excels.


For more on Lake Forest Corporate Education at the Lake Forest Graduate School of Management, click here.

See also: